ManageTeamz App is designed to be lightweight and more powerful in features. It is built with an interactive web dashboard for enabling admin to quickly know the status of every delivery driver and also the tracking services transparently. GPS based tracking has become a common feature in many applications with every smartphones now have GPS Location Sensors by default. ManageTeamz have realised the everyday people's usage for GPS Technology and hence built it within their delivery management system. This enables administrators and mangers to instantly allocate task to delivery drivers and then keep track of every active drivers to efficiently manage the delivery orders. Given below are some of the latest features that is included in the ManageTeamz App:
Delivery Driver ON/OFF Duty Status
Map Zoom-Levels for Tracking
GPS based Pick-Up and Delivery
1. Delivery Driver ON/OFF Duty Status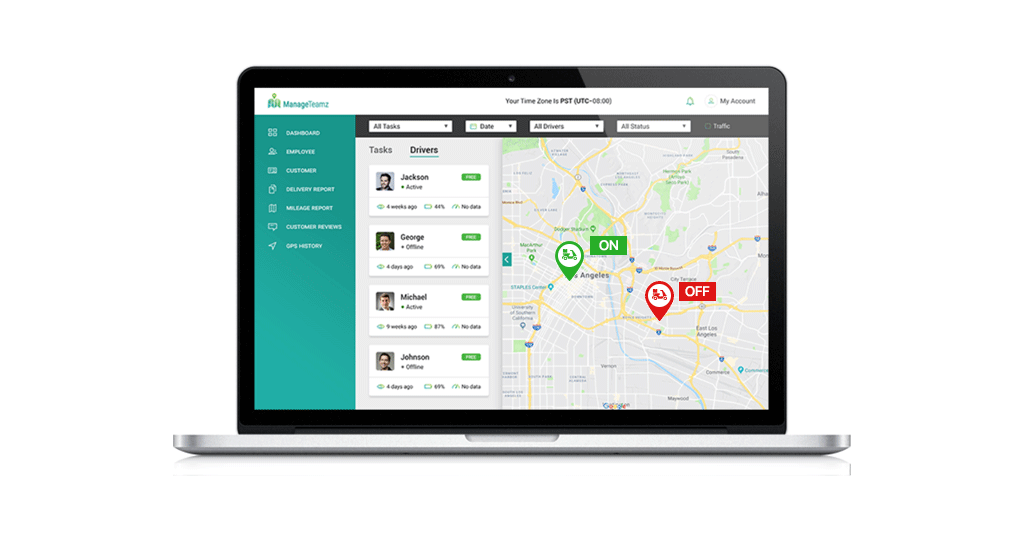 ManageTeamz have an interactive map-based dashboard for spontaneously locating all its Delivery Drivers and their Duty Status. Now you can view each one of the ON Duty Drivers tracked in a green location marker and for some of whom are unavailable, OFF Duty then it is inferred through red location marker. This should help admins to efficiently manage the delivery drivers and then improve the performance of the entire delivery process on a given day. Easily hover above the map based tracker to select the desired delivery driver existing with maximum no of active days to ensure parcels is reached destination, both securely and confirmatively.
2. Map Zoom-Levels for Tracking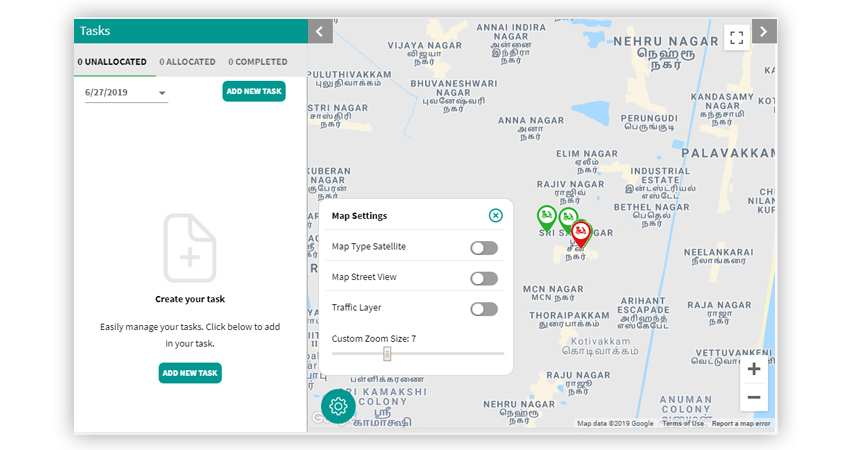 This special feature is mainly integrated to facilitate ManageTeamz administrator in acquiring the knowledge of street view navigation and then accomplish more orders. This feature is also made accessible to all delivery drivers for achieving high accuracy in logistics delivery. Once the tracking orders is done in detail then the admin can accept taking up more number of orders through ManageTeamz.
3. GPS based Pick-Up and Delivery
Easy manage your parcel orders through allocating it to delivery drivers with particulars mentioning the order number, recipient name, pick-up address, drop address, delivery time etc., The most significant aspect about map based tracking feature for any driver is that they get instant street map view plotted with tracks to move about swiftly, without any breaks. It gives great confidence to delivery drivers with the complete proof of delivery and to accept more number of delivery orders right away. Once the parcel is delivered to the recipient then the delivery time can be updated along with the customer signature proof using ManageTeamz App. It provides every details about the delivery item in real time transits for the admin manager to get updated with the allocated tasks.

Like what you're reading?
Get on a free consultative call with our team of industry experts to explore the possibilities on the subject.