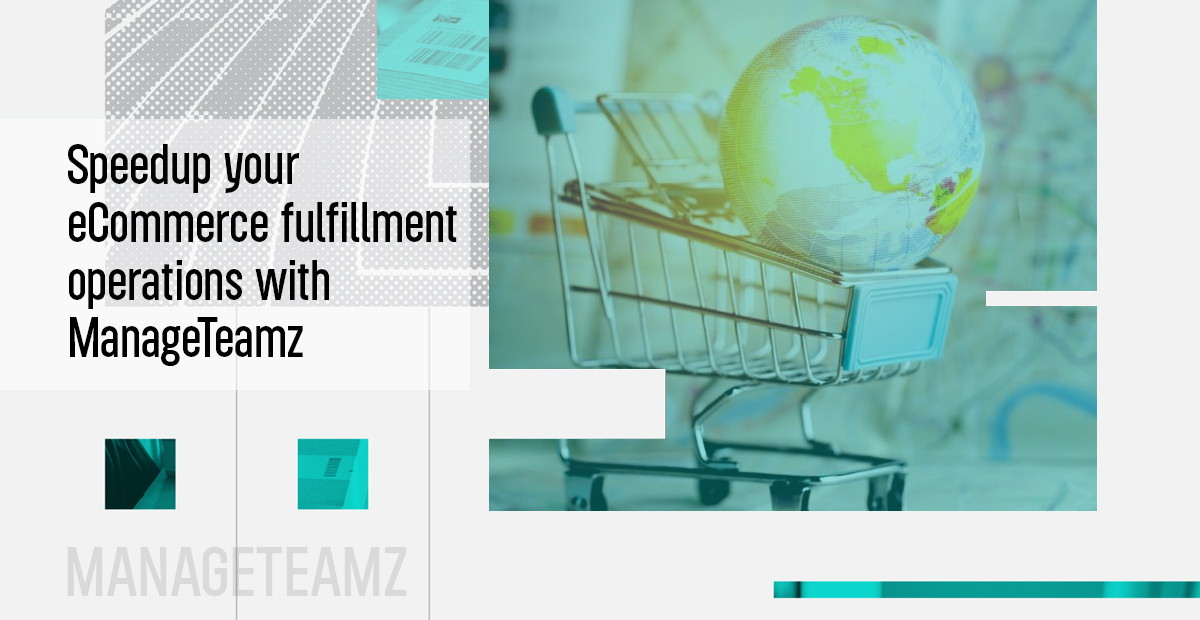 E-commerce is one of the most exciting channels for businesses to connect with their audience. However, figuring out how to establish an e-commerce business that will generate a profit is a challenge. As a result, prioritizing your resources is critical before creating your own e-commerce delivery software strategy. ManageTeamz is a leading logistics and delivery management software in the market. They provide open and honest guidance to their customers on important aspects of e-commerce marketing, such as ideas and features that should be included in order to create a successful e-commerce delivery app.
An 0n-demand delivery app has been developed to help e-commerce service providers use technology to track orders and improve the delivery experience. Whether it's providing real-time information to NDR management or sending real-time updates to customers,  eCommerce delivery management software is an important aspect of the broader e-commerce delivery business. The e-commerce software application market was valued at roughly $5.1 billion in the year 2018 and is expected to reach around $6.3 billion by the year 2023.
What is E-commerce?
E-commerce refers to the online purchase and sale of products and services, as well as the payment and data transmission required to complete the transaction. It's also called electronic commerce or internet commerce. According to a study, B2B eCommerce will be valued at $1.8 trillion by the year 2023, accounting for 17% of all B2B sales in the country.
What are the usual e-commerce delivery services offered?
E-commerce delivery is the practice of having products purchased online delivered to the buyer's address. Online sales are making it more important for businesses to oversee and manage delivery logistics, which is an important aspect of running an e-commerce business. Because logistics and delivery are the company's core competencies, they chose to work with an e-commerce delivery partner to process their orders and deliver them safely to the customer.
1. Inventory management and Warehousing:
Renting their own warehouses may be out of reach for e-commerce enterprises. Because of their worldwide reach, logistics companies can supply e-commerce businesses with a customized network of warehouses with as much or as little space as they want. They may also grow their business without having to worry about locating new warehouses. Many e-commerce logistics organizations provide comprehensive inventory management solutions that may help businesses manage supply and demand.
2. Shipping and delivery of the product:
From packing items according to precise specifications and criteria to completing all documentation and legal standards and delivering the product to the consumer, e-commerce logistics businesses play an important role as important company partners. Small, medium and even large enterprises do not have to cope with this since e-commerce providers have engaged in technical systems that allow for real-time tracking and quality checks. The logistics professional is in charge of coordinating with customers and ensuring that items are delivered on time; this is an important business activity for the company.
3. Handling returns and exchanges:
In the realm of e-commerce, returns are unavoidable. Customers may encounter issues with size, wrong purchasing, or poor quality. Easy and seamless returns management is an important aspect of the customer journey that strengthens the relationship between the e-commerce company and its customers. Returns are handled by the e-commerce logistics company, which also offers online retailers a full solution for the customer's last-mile connection.
What are the key benefits of e-commerce delivery software?
With same-day delivery, free returns, and no shipping fees increasingly becoming standard, smart businesses are embracing modern e-commerce logistics solutions to provide a positive customer experience and profitable deliveries. The following is a list of benefits that modern logistics technologies might provide to e-commerce logistics companies.
Real-time visibility of delivery activities from end to end.
Increased delivery speed.
Route planning is highly effective.
Multi-drop deliveries that are seamless.
Contactless deliveries and doorstep pickups are quick and easy.
Increased per-order delivery profitability.
Increasing the number of on-time in-full (OTIF) deliveries.
Improved client experience and flexible delivery procedures.
Increasing delivery capacity during busy business hours and seasons.
The number of home delivery has increased as e-commerce has grown. When the ultimate customer is not there to receive their goods, last-mile deliveries in e-commerce and retail logistics become more problematic. Regardless of whether or not e-commerce delivery software is used, there is no way to forecast whether or not delivery will be received. It is not always feasible to provide on time as requested by the customer. E-commerce delivery solutions will have to stay up as e-commerce companies continue to create solutions to this problem and include them in the delivery management software.
Related blog: E-Commerce, Last-Mile Delivery, And Logistics Management System: Hitting The Trifecta
What are the features present in an E-commerce delivery app?
Admin:
Real-Time Tracking:

The retail delivery app has a built-in GPS system that allows the admin to track the drivers' locations in real-time.
Auto Allocation:

Without having to wait for new orders, the e-commerce delivery app can auto-allocate duties depending on a driver's availability.
Geo-Fencing:

The e-commerce delivery app has a geofencing feature that provides accurate delivery to customers by using GPS to track their location.
Report & Analytics:

An admin can learn all there is to know about a company, conduct the necessary research, and obtain essential insights.
Driver Management:

You can check the report for each driver to see the distance covered, time traveled, fuel used, total customers served, and so on. The admin can also add, delete, or change them as needed.
Customer Management:

Admins can manage their customers at any time by adding, changing, or removing them from the e-commerce delivery app.

Driver:
Driver Dashboard:

 With the custom dashboard's unique features, the driver can see all of the details of the orders and customers in one spot.
Route Optimization:

The app includes an efficient path for drivers to get to their destination, which can save money, energy, and fuel.
Digital Proof of Delivery:

Customers can offer their e-signature as confirmation that the items were delivered to speed up the delivery process.
Customer:
Feedback:

Customers can now provide feedback on the delivery and product, which will be reviewed to see how they can be improved further.
Order Tracking:

Customers can use the app to keep track of their orders in real-time and see where they are present.
Contact Delivery Agent:

If they ever need to contact the delivery agent, ManageTeamz provides them with their contact information and helps them connect.
Conclusion:
The global e-commerce industry is booming, opening up more opportunities for businesses across the world to reap the benefits and simplify their delivery processes in order to better serve their consumers. Why do you still have second thoughts about establishing your dream e-commerce business? Contact globally renowned ManageTeamz today to get a low-cost on-demand delivery management app that will help you gain maximum ROI in less time.
Like what you're reading?
Get on a free consultative call with our team of industry experts to explore the possibilities on the subject.