Introduction
The eCommerce Delivery management solution is a fairly simple and common but entirely essential system for the modern eCommerce business. Why? Because of a myriad of reasons – One of the key benefits of using delivery management software lies in catering to the growing demand for 'on-demand' (no pun intended).
During and after the COVID outbreak, customers started demanding an increased number of services and products to be delivered straight to their homes with zero exposure to the outside world. Oxymoronic as it may sound, the modern customer now had all the tools at hand to order whatever they want, in just a few clicks, from the comfort of their homes. And a crucial part of this process lay in the delivery management phase of the modern eCommerce business model. 
So eCommerce had to adapt, without slack. The velocity of this change was unprecedented in any industry and required businesses to reinvent the wheel with their delivery management models. One long-standing tool, which had survived from pre-Covid times, proved to be extremely useful in meeting this new demand from customers – the eCommerce Delivery Management System.
Of course, we cannot discount the evolution that the eCommerce Delivery Management Solution had to go through – it had to be upgraded to allow for the quirks and quiddities of the modern eCommerce customer. One particular event from 2020 that involved mass panic buying of toilet paper exposed all the obvious issues with the supply chain, and consequentially set off a chain reaction of system upgrades and new tech adoption, across the world.
There had to be a continuous delivery process improvement starting with more seamless integrations with other systems as well. Delivery performance measurement was also prioritized with emphasis on timely & cost-effective delivery methods. 
For instance, ETA (or Estimated Time to Arrival) is fairly mature right now but saw unprecedented evolution in the last couple of years thanks to the catalysts of the current era. eCommerce businesses can achieve ETA accuracy through a combination of technologies that are available right now in the market, and several organizations have already jumped on board.
It is for these reasons that we see a CAGR of 9.29% between 2021 & 2027, with an estimated value of USD 200 billion for the global last-mile delivery market by 2027, released by Statista in 2023. Another report by Allied Market Research puts this number closer to USD 290 billion by 2031, with a CAGR of 8.13% from 2022 to 2031.
The key challenges and opportunities of managing deliveries in the modern eCommerce landscape
eCommerce Delivery Management brings with it a slew of challenges that can prove hard to crack for businesses. But with the help of powerful tools such as ManageTeamz, which leverages contemporary technology, all these challenges can be viewed as opportunities for improvement.
Some of these challenges include:
Lack of status transparency

High delivery costs

Delivery agent inconsistencies

Traffic, weather, and other problems

Accurate ETAs

Returns and Replacements

Route optimization
All of these challenges can be solved with a robust eCommerce Delivery Management Solution, mitigating customer dissatisfaction and churn.
Managing the delivery process in modern times
Customers of the modern era look for options that are simple, fast, and valuable. In the context of the last-delivery system, this is even more relevant, as consumers want delivery experiences that offer them the full picture and don't leave them in the dark.
There are 3 major aspects you have to focus on for the modern customer:
Tracking and updating delivery status
One of the most relevant aspects of modern times, tracking and delivery status seems to now have become a basic necessity/feature of eCommerce Delivery Management. Businesses need to look to modern technology to create more transparent delivery experiences for customers.
Some of the major elements to consider:
Maps and real-time tracking data

ETA accuracy

Stage-wise delivery updates
Communicating with customers about delivery updates
Even if a subset of the previous point, this feature is a must-have for the impatient modern customer. Based on analyses of customer behaviour in the last mile, customers reach out to know where their package is if they do not have clarity on ETA. If their order is time-bound, it becomes even more necessary to provide transparent updates on the stages of delivery.
Handling returns and exchanges
Several reports point to an increase in the number of return and exchange requests received on eCommerce websites. This upsurge can be attributed to various reasons including the 'trial and error' approach – customers order something just to see the quality of the product. This poses a unique problem for the last-mile delivery system, as businesses have to account for the supply-chain reversal. Furthermore, the last-mile delivery agents have to act as agents of trust and ensure the goods are returned in perfect condition back to the source.
Measuring and optimizing delivery performance
Delivery performance measurement is essential to ensure continuous delivery process improvement. Some of the KPIs (key performance indicators) for effective delivery management include:
Delivery time
Connected with ETA accuracy, this KPI allows businesses to understand how efficient the last-mile delivery management system is for them. Essentially, it can help businesses gain insights into agent behaviour, regular delays, hazards, and other factors. 
The delivery time is an essential aspect of the last mile since it is one of the main decisional factors for the customer to continue using your services. Even if you have a great product but don't deliver on time, the customer may choose to go with a different seller/delivery agent or choose to go with a completely different product altogether.
Delivery success rate
It is 2023, and the modern customer's tolerance for lost packages and non-delivery of products is next to zero. There has to be complete clarity of the status of delivery to avoid this kind of mishap. Considered one of the biggest errors in the last-mile delivery system, this could break a business's reputation and destabilize customers' trust in the brand.
Customer satisfaction
Customer satisfaction can be a dynamic KPI, as it can depend on several psychological/human factors. In many ways, businesses will be unable to put a finger on the single biggest cause of low customer satisfaction. But, on the flip side, this KPI can be a great indicator of what broad areas of business have issues. 
Businesses have to be open to accepting such indicators of satisfaction and can do well in implementing a net promoter score system of measure.
5 Ways to reduce delivery costs
There are several ways to significantly reduce delivery costs in your last-mile delivery. Although some of these practices may be more suited to businesses that choose to rely on a 3PL or 4PL partner to handle their logistics, there are 5 ways that can be considered for any last-mile delivery system: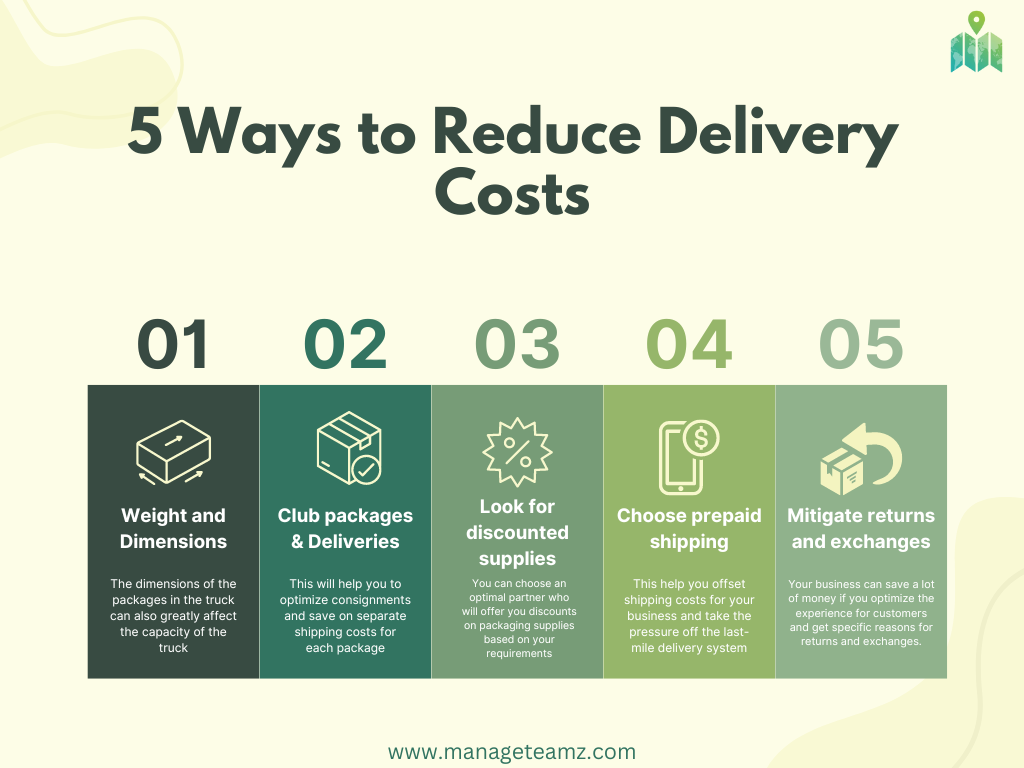 Weight and Dimensions
Optimizing the weight and size of your packages will save a lot on shipping. For example, a truck that may be able to carry a working load of 3000 lbs (or 1500 kgs), should be space optimized to carry a full working load instead of lesser. 
The dimensions of the packages in the truck can also greatly affect the capacity of the truck. 
Club packages & Deliveries
Some customers may order multiple items in a single order, and you may have to ship these packages on different timelines and consignments. Instead, you can request the customer's permission to ship the packages together instead of separately. This will help you to optimize consignments and save on separate shipping costs for each package.
Look for discounted supplies
A major factor for increased costs in the last-mile delivery system is the need for customized supplies such as boxes, tapes, and bubble wrap to name a few. Depending on the supplies you need for packaging, you can choose an optimal partner who can offer you such supplies at a discounted rate.
Choose prepaid shipping
Instead of taking shipping costs on your ledger with post-shipment charges, you can choose to include shipping pricing in the retail price of the product itself. This would help you offset shipping costs for your business and take the pressure off the last-mile delivery system. You can also choose to offer free shipping if you can club packages into the same consignment.
Mitigate returns and exchanges
The supply chain reversal is one of the greatest contributors to last-mile delivery costs. If you optimize the experience for customers and get specific reasons for returns and exchanges, you can limit the number of returns and exchange requests that come through, saving a lot of money for your business.
Best practices for continuous improvement of delivery processes
Continuous improvement of processes can be defined as a scientific approach to improving corporate performance. This approach is generally applied in almost every industry and is even more relevant for the last-mile delivery process.
In general, this approach focuses on 4 stages:
Plan –  plan the specific actions to be taken to impact certain KPIs
Experiment – implement the actions to a specific model or one segment of the process
Assess – measure performance against KPIs and see if the experiment works
Scale – scale the actions to a larger process set
How does this apply to the delivery process?
For instance, if in your eCommerce last-mile delivery system you see that the delivery agents are having a hard time delivering packages on schedule, and need some realignment to optimize delivery schedules, you can look to implement a continuous improvement of delivery systems. 
Some of the best practices to improve the delivery process:
Take a specific location/circle and time of operations

Unify all logistics data and automate order allocation

Optimize automation based on route planning and clubbed deliveries

Offer choice and convenience

Improve communications and real-time driver tracking

Prepare contingencies for driver unavailability
You can probably look to implement more steps per your process and measure the continuous improvement of the last-mile delivery for your business.
Advanced delivery management strategies
Contemporary technologies offer new dimensions to rethink delivery management for eCommerce businesses. State-of-the-art eCommerce delivery management solutions like ManageTeamz leverage cutting-edge technology to optimize operations and better customer experiences. There are several technologies that are integrated into a solution like this but a few of them are the most relevant to the common challenges of eCommerce Delivery Management.
Automation & ML
Robotic Process Automation (RPA) is the most fundamental tool for optimizing the last-mile delivery system. Several individual steps in the last-mile delivery process can be automated for better ETAs and experiences. 
For example, automatic order allocations can offer a huge advantage to high-volume on-demand services like food delivery. RPA scripts are rule-based and handle high-volume, repetitive actions with ease, but can have difficulties handling more complex workflows and contingent behaviour.
Building on this, with integrated Machine Learning and AI-based decision-making, businesses can further enhance the process and simplify this stage of the process, and take the pressure off delivery agents. 
Integrations, in & out
eCommerce Delivery Management solutions are inherently not a standalone system and have to integrate with the other systems in the supply chain, such as inventory management and CRMs. But beyond this, these systems also should allow for easy integrations with other 3rd party applications and services.
For instance, the public map data from Google Maps can be used to optimize delivery routes and arrive at more accurate ETAs.
Data and analytics
Understanding and analyzing delivery and customer behaviour data can present a huge advantage to eCommerce delivery businesses. By collecting, processing, and analyzing such data, businesses can optimize delivery routes and reduce the overall cost of the process.
Data Analytics can also offer insights into seasonal and or trend-based ordering patterns, and enable businesses to scale resources per the requirements.
Conclusion
Investing in an eCommerce Delivery Management Solution would not be a bad idea if you want to navigate the challenges of the modern eCommerce landscape. But there is a good chance you're not sure what features you'd need for your business – we can help. ManageTeamz is a robust and mature last-mile delivery system solution that works straight out of the box. 
Get in touch with our experts to figure out how you can customize our solution to best suit the needs of your eCommerce business.

Like what you're reading?
Get on a free consultative call with our team of industry experts to explore the possibilities on the subject.